What? Pear pizza?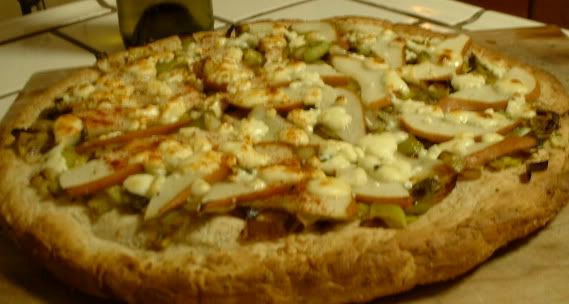 Pears, with their subtle sweetness and succulent texture, are suitable for use in savory as well as sweet dishes. So in addition to using pears in muffins, crisp, pudding, and Megan's amazing vegan chocolate pear cake (recipe another time) -- I sometimes make salads, soups, and -- yes -- pizza with them. It's not all that unusual in the annals of California cuisine, where innovative ingredient pairings (or, in this case, pearings) are
de riguer
on restaurant menus.
As for the crust, I'm very picky in this area, as readers of my Bread Lament (2/2/06) will remember. But there are actually some pretty good pre-cooked crusts out there. For the pizza in the picture, I used one made by
Alvarado Street Bakery
in Sonoma County. You can buy pizza dough at some grocery stores, fresh or frozen, to be shaped by your very own hands before baking. Best of all, of course, is to make the dough from scratch. It is not difficult and you don't need any fancy ingredients. There are thousands of dough recipes in the blogosphere, so I won't include one here. But try it. Practice by making pizza dough several times over the course of a few weeks and it will become second nature.
Whatever crust you decide to use, you must try this pear pizza with caramelized leeks and blue cheese. It's delicious and intriguing enough for company.
Blessings and bon appetit!
PIZZA WITH CARAMELIZED LEEKS,
PEAR, AND BLUE CHEESE
Yield: 4 main-dish servings
This pizza bring together a delicious -- and surprising -- mélange of flavors. A vinaigrette-dressed arugula salad makes a fresh and peppery side dish.
2 large leeks
2 tablespoons unsalted butter
1 tablespoon minced fresh rosemary leaves or 1 teaspoon dried
one-fourth teaspoon salt
2 tablespoons dry sherry
1 pre-cooked 12-inch pizza crust
1 medium Bosc pear
1 tablespoon fresh-squeezed lemon juice
2 ounces blue cheese, crumbled
1 teaspoon sweet paprika
1. Trim off and discard the root ends and the dark green portion of the leeks. Cut them in half lengthwise and discard the toughest outer layers. Rinse thoroughly between the layers to remove any grit. Pat the leeks dry and slice them crosswise into thin shreds.
2. Preheat the broiler.
3. Melt the butter in a heavy sauté pan and add the leeks, rosemary, and salt. Saute, stirring occasionally, until tender and nicely browned, about 6 to 8 minutes. Add the sherry and stir until there is no more runny liquid in the pan.
4. Meanwhile, slice the pear in half lengthwise and cut out the core section. Slice each half thinly and gently toss the slices with the lemon juice
5. Transfer the leeks to the pizza crust and spread them out eventy, leaving about a 1-inch border all around the outside free of topping.
5. Arrange the sliced pears in a single layer on top of the leeks. Evenly distribute the blue cheese over the pears. Sprinkle on the paprika.
6. Bake the pizza 4 inches from the heat source until the cheese is bubbly and lightly browned, about 10 minutes. Cut into wedges and serve.