Suisun Valley wine run
Wooden Valley Winery
, just a few miles north of Interestate 80 on Suisun Valley Road, is worth a visit, even on a rainy day in March. In fact, maybe
especially
on a rainy day in March. Its outdoor facilities aren't much to speak of -- no match, at least, for the fabulous-view picnic spots many wineries in Napa and Sonoma and Lake and Mendocino counties have to offer. But the large tasting room, with its rich dark woods and friendly staff, is warm and welcoming. And there are some good wines here, at VERY good prices.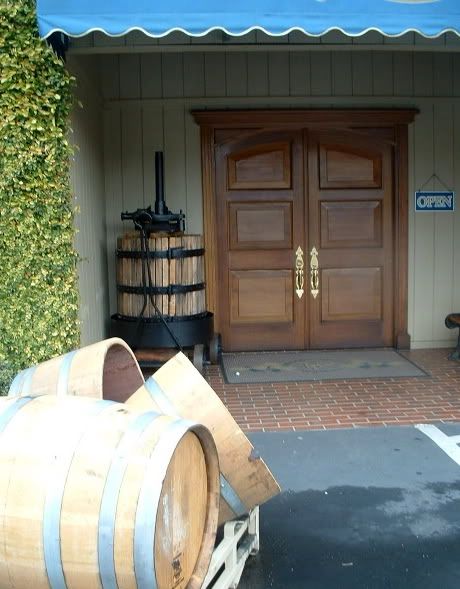 On our recent visit, we bought Chardonnay, Syrah, Cabernet, and Viognier -- plus a few bottles of the winery's proprietary blend, Suisun Valley Red. It's quite a decent quaffing wine, fruity up front with well-rounded flavors on the way down. At $6/bottle it's a fine choice for your daily glass of red. Strictly for medicinal purposes? No way. It's got to taste good on it's own and do a good job of complementing food to earn a place in my cellar.
Suisun Valley
is a fun destination in the summer, too, when farm stands are bursting with produce. There is one other tasting room I know of in the vicinity, at
Ledgewood Creek Winery
, which is the new kid on the block. It opened about 3 years ago, while Wooden Valley has been there for decades.
There are restaurants in the valley, too, that the super-spouse and I have yet to try. We always pack a gourmet picnic for our wine touring days. I recently read the menu for an Italian restaurant called The Vintage Caffe that is very tempting, though. Several types of ravioli are offered, featuring traditional fillings such as ricotta and spinach and more innovative combinations. There's plenty for vegetarians to choose from.
It's a pleasant and easy drive for Bay Area folks (travel about 20 miles east of Berkeley on I-80 to Suisun Valley Road, then go north). Be forwarned, however, that it will be neither pleasant nor easy if you try to cross the Carquinez Bridge on Friday afternoon after about 2:00. (Then you would be crazy to make the trip, as we were last week, and will never be again.) My other caveat applies only in the summer months. The area can be scorching, so dress accordingly -- wide-brimmed straw hats and sandals were invented for just such times and places.)