Saffron rice
Every vegetarian I know eats rice frequently. Usually brown rice, which provides complex carbohydrates, fiber, and important trace minerals. But now and then I want to cook a rice dish fast (brown rice takes a good 50 minutes or so to cook from scratch), or I'm just in the mood for a change.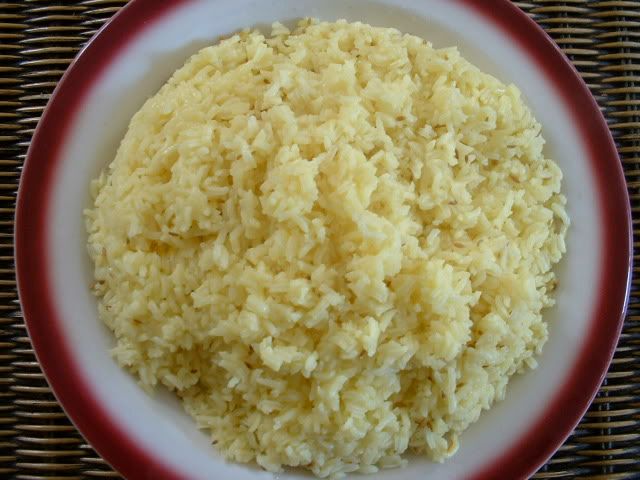 At those times, basmati rice with saffron and cumin is my usual pick. It's super easy, beautiful on the plate, and very versatile. I make a lot of "mindy-anese" cuisine, as my friend Elizabeth calls it -- soups and sautes that draw on the foods and flavors of the Far East, or Near East, or a fusion of the two. And Saffron Rice is the perfect accompaniment to these dishes.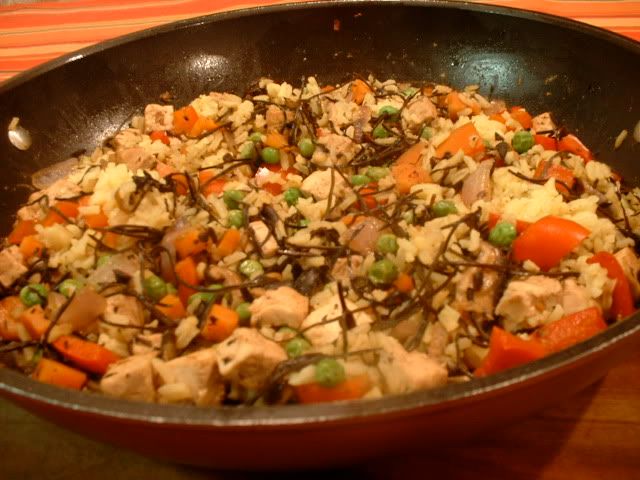 Leftovers can be stirred into soup, tossed in a salad, or added to a stir-fry, as shown here in another Mindy-anese concoction, with sea veggies, shiitakes, tofu, fermented black beans, etc. It's Saffron Rice, The Sequel.
Here's the simple recipe for great saffron rice. 1) Put 2 cups of water on to boil, with 1/2 teaspoon whole cumin seeds, 1/4 teaspoon sea salt, and a small pinch of saffron threads. 2) Put 1 cup white basmati rice in a fine-mesh strainer and rinse under running water for a about 30 seconds, to wash off some of the surface starch. This will help the finished rice have a nice loose, not sticky, texture. Drain off any excess water. 3) When the saffrom water just comes to a boil, add the rice and stir. Put on a lid, reduce the heat to very low, and cook for 20 minutes. Turn off the heat and let the rice stand without disturbing the lid for 5 minutes, then transfer to a serving bowl. Serve with your favorite curry or Asian-inspired saute.
Blessings and bon appetit!
Tags: vegetarian recipes cooking saffron rice