Bean Curd Lessons
Here's a little poem I wrote while pondering all the metaphors for life we cooks encounter in the kitchen.
BEAN CURD LESSONS
This block of bean curd
doesn't envy anyone.
It does its job of nourishing
without complaint.
Pliant and plain, it trusts the cook
to add some zesty seasoning
and mind the flame.
The lump of tofu doesn't fret
about its fate. It waits,
surrendered to the cooking process,
lets the scorch and sizzle
do their work of transformation,
eagerly anticipates
becoming something new.
* * * * * * * * * * * * *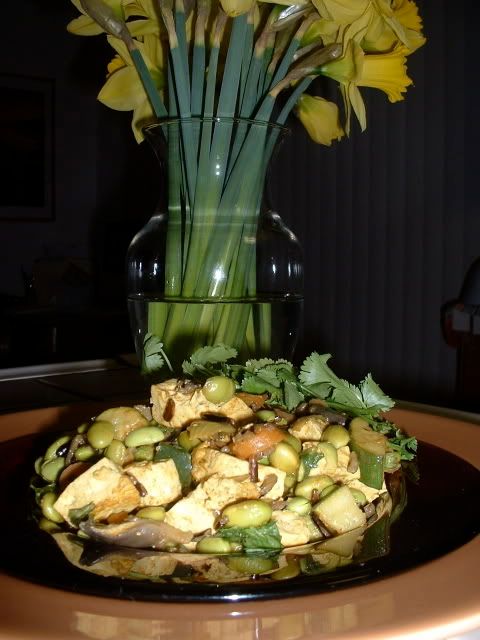 And here's what I made of the humble bean curd for dinner last night. 1) Saute diced onion and curry powder in a slick of olive oil. 2) Stir in tofu cubes, zucchini dice, oyster mushrooms, whole green soybeans (edamame), and cooked wild rice (available vacuum-packed at some supermarkets). 3) Add veggie broth (or water, or coconut milk) and a splash of soy sauce. 4) Put on lid and cook about 7 minutes. 5) Add cilantro if desired. Enjoy!
Tags: vegan recipes vegetarian tofu