Craving polenta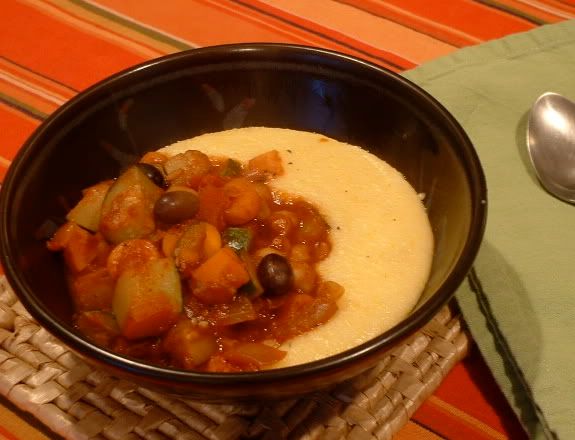 Sometimes I get a strong craving for polenta. It's one of my comfort foods and there are days when I simply have to have it. Maybe it evokes the sun-drenched hills of Sicily and helps keep the winter chill from taking hold of my mind and heart.
Yesterday another big storm blew through (we've had an awful lot of them this winter) and I knew it was a polenta day. Had a bit of
Point Reyes original blue cheese
in the fridge and cornmeal in the pantry, so the basics were on hand.
I almost always make a tomato-based veggie stew to go with polenta. This one used onion, zucchini, carrot, garbanzo beans, Nicoise olives, canned tomatoes and plenty of garlic. Spices: oregano, cayenne, and -- surprise! -- cinnamon. Used in extreme moderation, cinnamon adds a subtle sweetness that enhances the tomatoes and balances the heat of the cayenne. This isn't some strange new innovation on my part. The cooks of Rome have been utilizing cinnamon in tomato dishes for a very long time.
The super-spouse and I ate our dinner feeling safe from the storm and content with our lot. That's the gift every good cook gives herself, her friends, her family through her efforts in the kitchen.
Blessings and bon appetit!
POLENTA BASICS
Polenta is really a process, more than a specific recipe. Make it a few times in the next month and you'll get the hang of it.
1) Put 4 cups of water on to boil.
2) Add to the water: 1 teaspoon of granulated garlic, 1 teaspoon of dried Italian herbs (crushed in the palm of your hand), 1/2 teaspoon salt, and several grinds of black pepper.
3) When the water is boiling, pour in 1 cup of medium-grind cornmeal in a gentle stream, whisking so it doesn't form lumps.
4) Turn the heat down to medium and cook until the grains are perfectly soft, about 15 minutes, whisking vigorously and frequently to prevent sticking. Add more water a tablespoon or two at a time if the polenta gets too thick to whisk before the grains are cooked.
5) When the polenta is done, the mixture should be smooth and creamy, NOT thick and mounded like mashed potatoes.
6) Add a bit of butter and some cheese, if you wish. Serve with a thick veggie stew or marinara sauce.
7) Pour leftovers into a flat baking dish (traditionally it was poured out onto a large board). It will firm up as it cools and can be cut into wedges or squares and grilled, or cubed to add to a salad.
Tags: vegetarian recipes cooking polenta