Mendocino musings
When you encounter a couple of sunny, wind-free, February days on the north coast of California, you are in for a treat. My super-spouse and I went visiting friends in Cloverdale and Mendocino and wound up playing frisbee on a huge deserted beach in t-shirts and jeans; tasting wonderful wines in and around Boonville (which invented its own language,
Boontling
, a few decades ago and still retains its unconventional edge); meandering the quaint Victorian village of
Mendocino
, with calla lilies in full bloom everywhere; and feasting at home (see notes below) and at various public eateries, notably Cafe 1 in Fort Bragg, an all-organic breakfast and lunch diner that serves up wonderful, fresh food to tired but happy hikers fresh from the haul road trail. It was all wonderful and seductive, enough to make one want to move there, having forgotten that fog and rain are regular visitors to these environs.
I made delicious salads everywhere we went, using organic ingredients and embellishing the feast with olive or flax oil, lemon juice or cider vinegar, garlic, nuts and seeds, fresh herbs, etc. Here's one in the nude (that is, prior to getting dressed). Yes, the photo's huge (I'm still learning the ins and outs of uploading digital photos) -- almost life-size, isn't it? And doesn't it make you want to go make and eat a huge salad right now?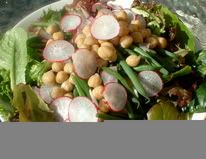 My friend, Megan, and I prepared a marvelous dinner in Cloverdale. Too much of a muchness, as the super-spouse often says when realizing yet again how blessed we are to be alive and in love in northern California, lucky beneficiaries of its incredible abundance of everything wonderful.
Here's what was cooked and eaten that night among special friends, a belated Valentine's Day vegetarian feast. Read it and weep (or get busy and duplicate it for people you love).
APPETIZER COURSE
Home-marinated olives with lemon zest, crushed chiles, and fresh rosemary.
Home-baked whole grain bread with aged gouda
SALAD
Fresh baby spinach with raspberry vinaigrette and baby beets
MAIN COURSE
Parmesan polenta with Moroccan-spiced vegetables and chickpeas
DESSERT
Warm berry soup with whipped cream and dark chocolate heart-shaped brownies
BEVERAGES
Champagne for starters
Russian River zinfandel with main course
Pelegrino water
Barely sweetened mint tea with desert