Humungous fungus among us
Word has it that this is a great year for chanterelles in California. Judging from my own experience, it's a fact. Got called to a friend's place to help harvest the strange mushrooms he had found protruding from the ground under the oaks on his property near Cloverdale. We went, we foraged, we feasted.
Here's the happy band of mushroom hunters (that is a one-year old child, not a hobbit, in our midst).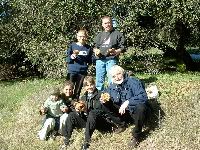 Next post shows the harvest, and tells you a little about what we did with all that abundance.