Chanterelle heaven
We were blessed indeed on that chilly January morning to unearth 15 pounds of meaty chanterelles within about 20 minutes. Here they are.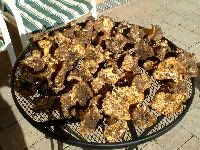 Everyone took home a few pounds. Here's a list of what I did with my share of the loot.
1. Sauteed in olive oil until carmelized. Added minced garlic and salt during last 2 minutes of cooking time. Served on toasted rustic bread. You know what I mean by rustic, don't you? Crusty and chewy, and sold in a whole loaf for freshness. (See my post entitled Bread Lament for more on that subject.)
2. Cooked in a tomato sauce with Italian herbs and eggplant, served with gorgonzola polenta.
3. Sauteed with onion at the beginning of curried lentil and chard soup.
4. Added to breakfast eggs and eaten in corn tortillas with salsa.
The fungus among us are a culinary gold mine. Seek out a mushroom club in your area and join the forage...